Always Someone Asleep and Someone Awake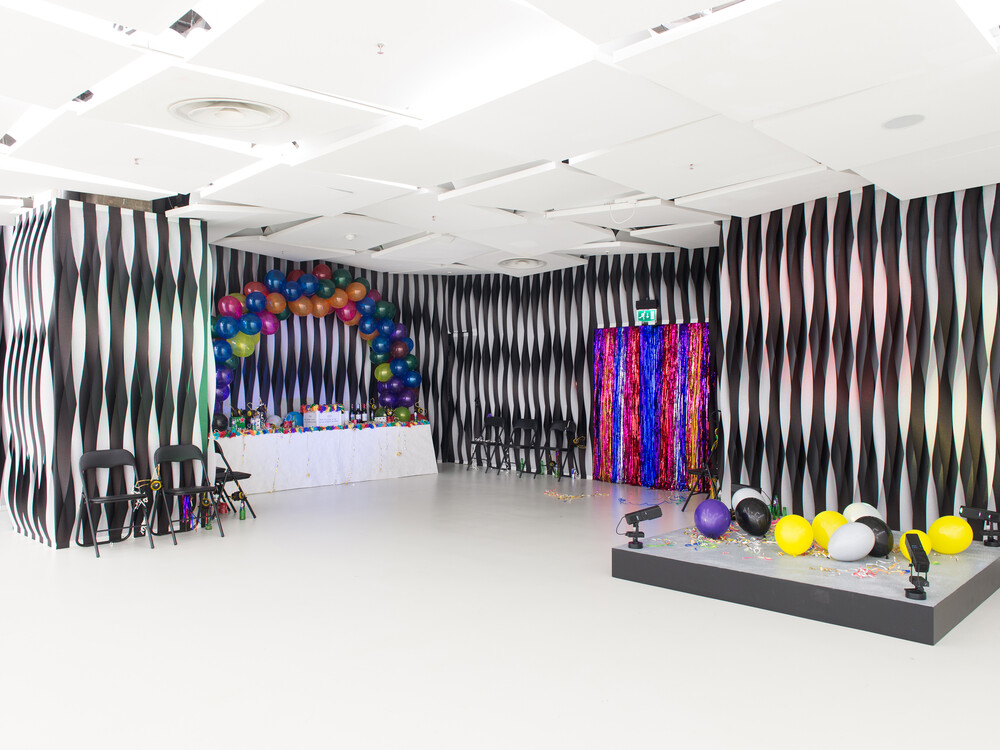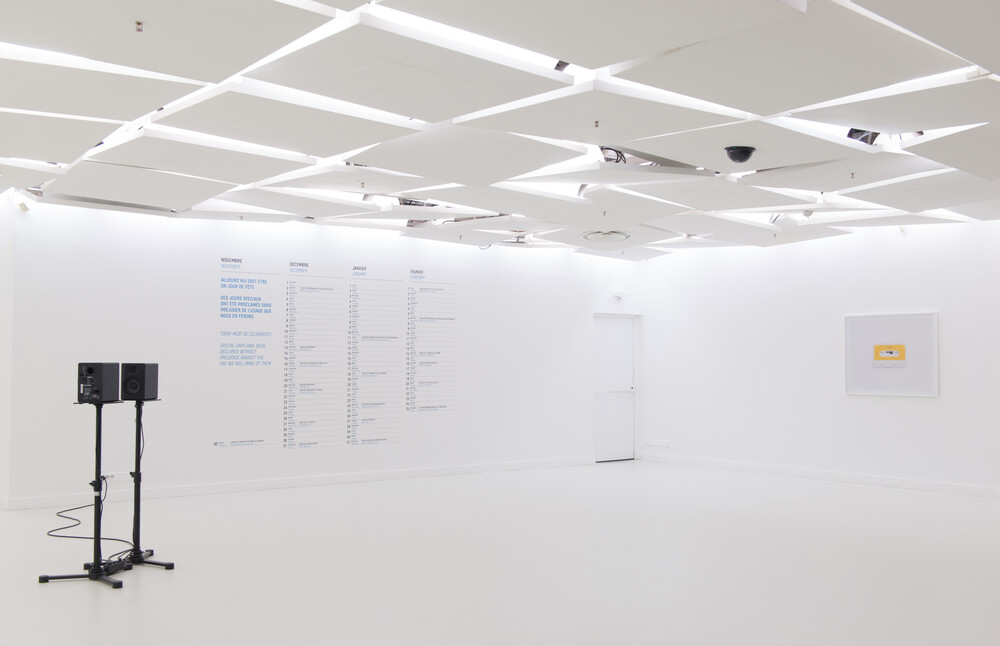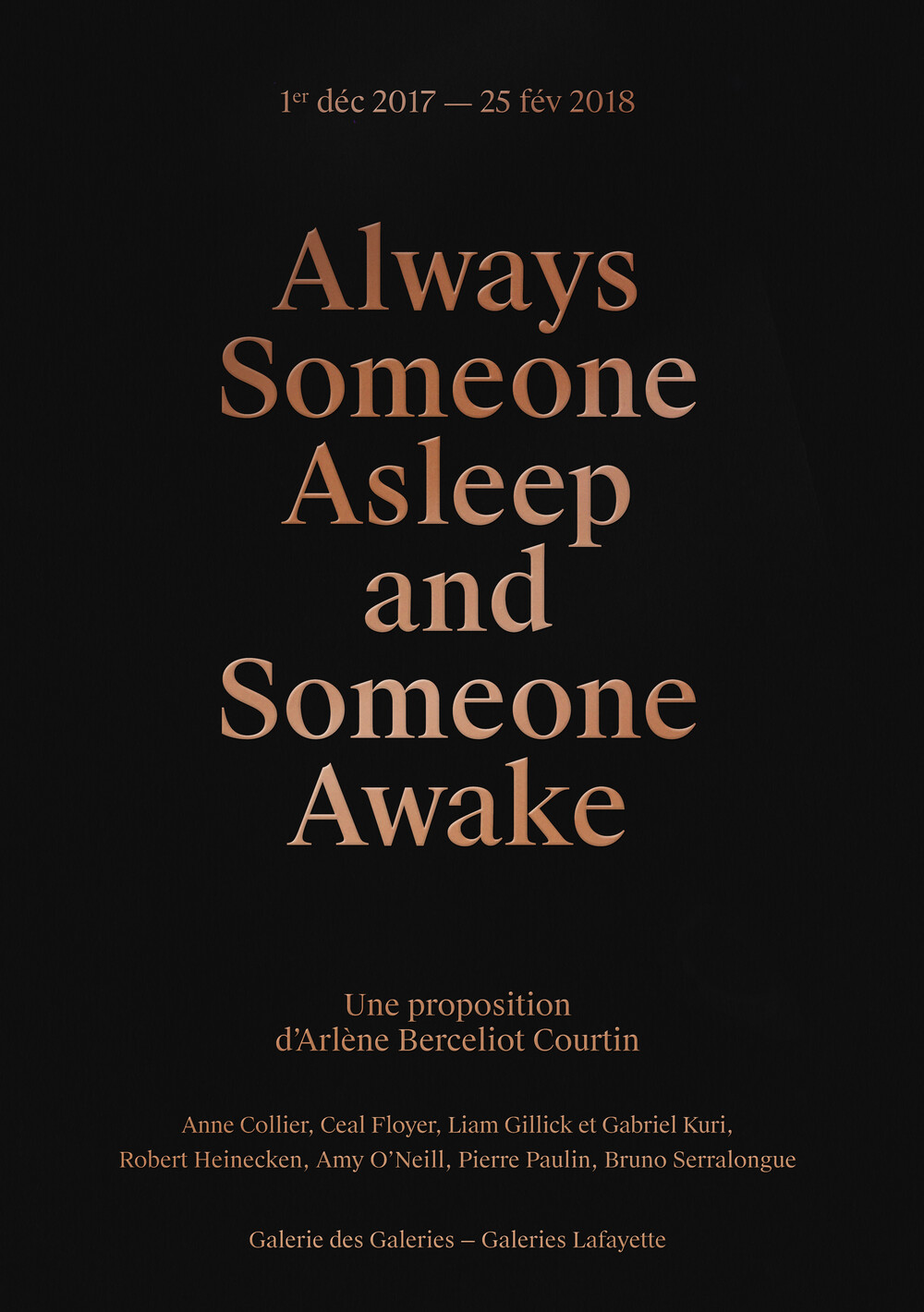 From December 1, 2017 to February 25, 2018 Galerie des Galeries hosts an exhibition curated by Arlène Berceliot Courtin around the theme of celebration: the sometimes predictable, sometimes improvised celebration of all things prosaic – and of special occasions.
Entitled Always Someone Asleep and Someone Awake, this exhibition explores the codes and languages of partying, events and celebrations at present and future time. Today has got to be a special day but how exactly, should it be celebrated? Perhaps a permanent or temporary, moving and progressive ceremony, that could be celebrated each year at a fixed or changing date, where there would always be "someone asleep and someone awake/Someone dreaming asleep someone dreaming awake"¹. Or perhaps it could be a spontaneous gathering, orchestrated by the wish of a common struggle or chorus.
The project invites French and international artists from different generations: Anne Collier, Ceal Floyer, Liam Gillick and Gabriel Kuri, Robert Heinecken, Amy O'Neill, Pierre Paulin, Bruno Serralongue, and seeks to shed light on our collective imagery and evokes a sense of the moveable feast, thus enabling a reinterpretation or recreation of the partying syndrome, between deep delight and duller tomorrow.
Arlène Berceliot Courtin is an independent art critic and curator, based in Paris. She recently curated exhibitions at Galerie Allen (Paris) and Air de Paris (Paris). Since 2011, she has collaborated with artist-run spaces such as Shanaynay (Paris), Moins Un (Paris), La Salle de bains (Lyon) and PSM Gallery (Berlin). She regularly sits on the jury of French and international artists' residency programs, including Institut français. She is also writing in the specialized art press in France.
1 This annoucement and the exhibition title are both in reference to La fête permanente/The Eternal Network, created in March 1968 by George Brecht and Robert Filliou after the closure of La Cédille qui Sourit, Villefranche-sur-mer (1965-1968).
Galerie des Galeries proposes a series of workshops in relation with the artworks presented in the exhibition space.
Saturday 9 December
Party Deco
After discussing Amy O'Neill's work Post-Prom, the kids are invited to create their own tinsel, decorative pendant or colorful ornament.
Sunday 14 January
Anyone Other Than Oneself
This workshop will allow the kids to become somebody else by drawing inspiration from the works exhibited. We propose them to embody a character of their choice by creating their own double mask.
Wednesday 21 February
Pop-up Invit'
As part of Liam Gillick and Gabriel Kuri's Everyday Holiday/La fête au quotidien, we ask the kids to think of an event of their choice and to create an original invitation to invite their friends and relatives to the party!
GALERIE DES GALERIES prend en charge de nombreux navigateurs
mais il semble que celui-ci soit obsolète,
veuillez utiliser le navigateur Google Chrome ou bien mettre à jour votre navigateur.
GALERIE DES GALERIES supports many browsers
but it seems that it is obsolete,
please use the Google Chrome browser or update your browser.