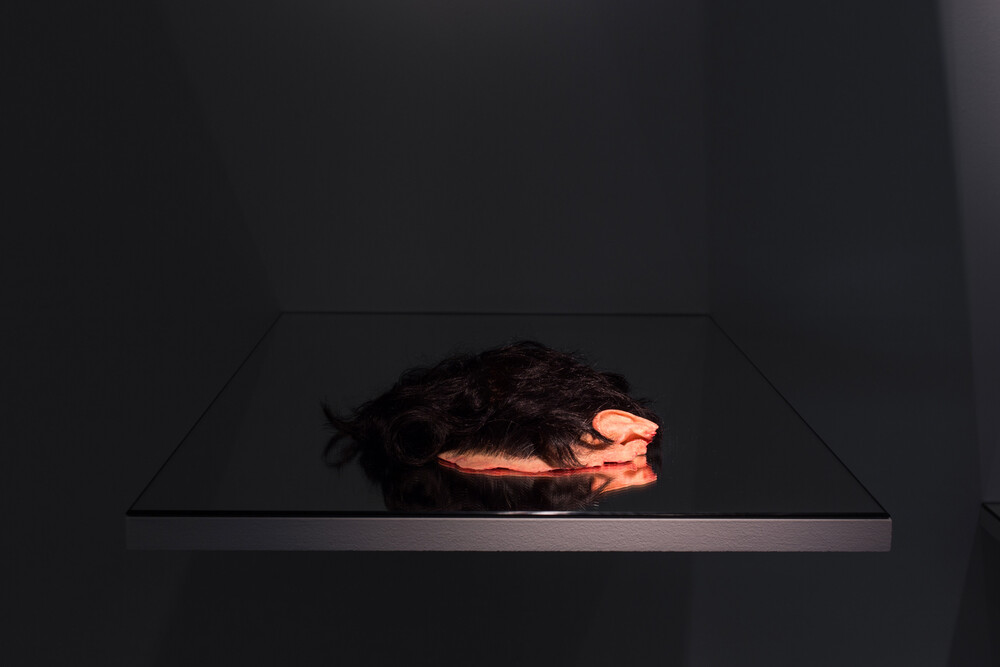 Silicone, resin, oil paint, human hair
Courtesy Noam Toran
Produced with the support of Galerie des Galeries, Galeries Lafayette
© Thibaut Voisin
---
"The Melendez Family" examines a whole portion of shared US-Mexico history from the 19th century, in which the Mexican government, being tired of the Apache raids which would decimate their crops and kill their citizens, issued a bounty of 100 pesos for each Indian scalp. As a result, a stream of "scalphunters" – bands of US soldiers and criminals – descended into the Chihuahua region and initiated a series of massacres, often indiscriminately killing and scalping Indians and Mexicans alike. Indeed, the Mexican government was often unable to distinguish its own citizen's scalps from those of native Indians, and resigned themselves to paying the scalphunters either way. Here, Toran gives pride of place to this human trophy, born of man's greed for conquest, domination and wealth. He explores the ambivalent status of the scalp, once part of the human body, later to be hanging from belts and shoulders of the scalphunters - a most perverse fashion accessory - and finally to be displayed as a historical and ethnographic artifact in museums across the United States.
GALERIE DES GALERIES prend en charge de nombreux navigateurs
mais il semble que celui-ci soit obsolète,
veuillez utiliser le navigateur Google Chrome ou bien mettre à jour votre navigateur.
GALERIE DES GALERIES supports many browsers
but it seems that it is obsolete,
please use the Google Chrome browser or update your browser.