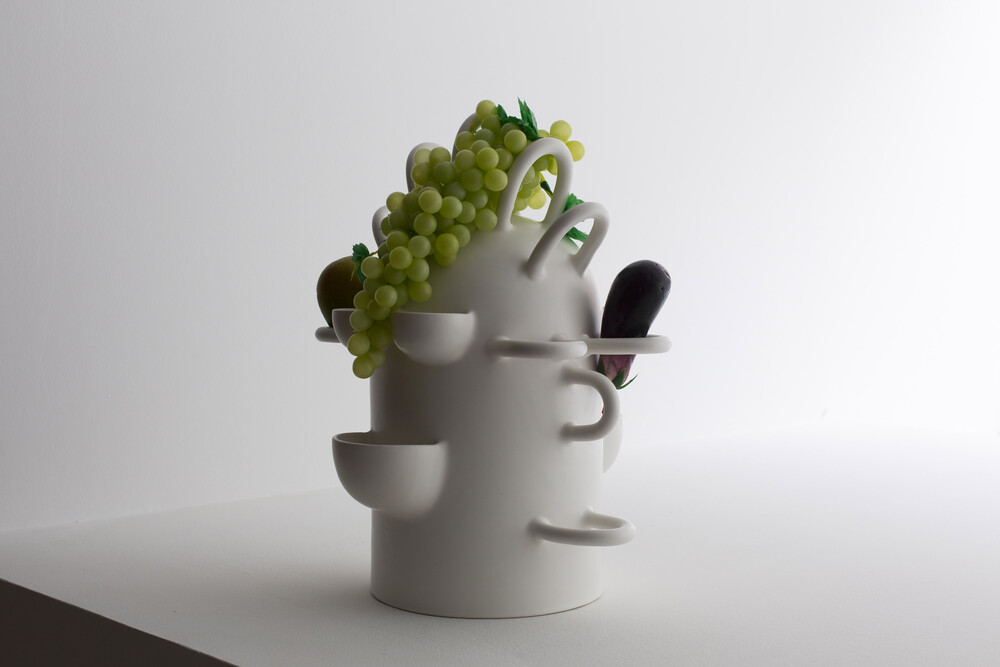 Family of fruit and vegetable holders
Edition of 25 pieces
Enamelled ceramic
Florence Doléac in collaboration with RADI DESIGNERS, Vallauris
Production Claude Aïello
© Toolsgalerie, ADAGP, Paris 2013
© Thibaut Voisin
---
To Florence Doléac, the home is a world of inventiveness. She populates it with endearing humanoids that hark back to Arcimboldo's heads, 18th century multi-purpose furniture or the famous characters from the Barbapapa cartoons. These enameled ceramic designs take on various forms: undefined objects with handles, vases, eggcups, oil and vinegar cruets, all of which bear cute or English nicknames: "Coco", "Petit", "Tantine", "Twin" (serie in 2004) and are intended to hold fruits and vegetables. These Works were made for the exhibition Claude Aïello and the designers at the Grand Hornu museum (Belgium) and at the museum of Vallauris.
GALERIE DES GALERIES prend en charge de nombreux navigateurs
mais il semble que celui-ci soit obsolète,
veuillez utiliser le navigateur Google Chrome ou bien mettre à jour votre navigateur.
GALERIE DES GALERIES supports many browsers
but it seems that it is obsolete,
please use the Google Chrome browser or update your browser.